Guardians
Rockefeller Center
Taller Jacobo y María Ángeles created two "Guardians" to live in New York City from 22 October to 3 November 2021 in the event "México Week: Día de Muertos at Rockefeller Center", with the mission of accompanying and protecting all Latin American, Mexican and Oaxacan migrants who live or are about to arrive to The United States looking for a better future for their people.
As its name suggests, our guardians safeguard the life and the cultural identity in this community; they're also responsible for the care, transport, and defense of the warriors, tonas, and guides of their tribe. These two monumental pieces are part of the story presented in "Nómadas", a narrative about the resistance, persecution, and migration in a dystopian future, where science merges with the ancestral indigenous cosmovision, among them, the Zapotec.
On this occasion, there were two monumental pieces exhibited. One of them consists of the Eagle-Iguana fusion which means visual power, fertility, and fecundity, and the other one is the Jaguar-Eagle fusion which means leadership and visual power. These two examples have a new iconography that is out of any other proposal seen before by Taller Jacobo y María Ángeles. These symbols respond to new conditions and communicative needs.
That's how "The Guardians", presented at the entrance of the emblematic Rockefeller Center in New York City, set for us a pattern of our work because it responds to a whole process carried out so hard for 27 years. It's also a sample of the artistic and working spirit that emanates from our San Martin Tilcajete village.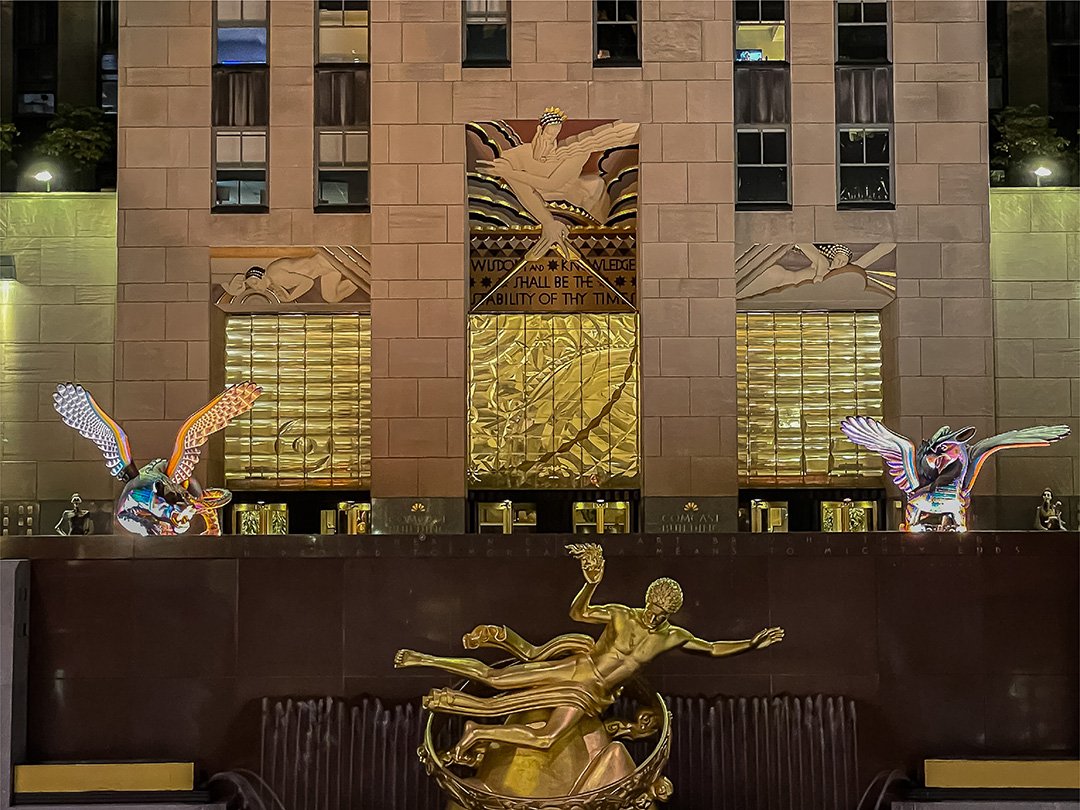 The estimated production time for these pieces was 6 months in total, in which the sketches were developed by hand, 3D modeling, the carving of the scale model, the making of the pieces of fiberglass, the preparation of the primer, the decoration, and the automotive varnish that seals this magnificent work. All these great feats, done in record time, have been possible thanks to the efforts of 29 collaborators who put all their love and dedication into creating these pieces. We thank the invitation from the Secretary of Culture and the Government of Oaxaca which was responsible for the management of the project logistically.
It is an honor for us to share our work, and
our countrymen may have near them a
landmark that brings them closer to their roots and
protects them, even in the distance.
Cjon. del Olvido 9, 71506
San Martín Tilcajete, Oax.
951 524 90 27 ext.4
Monday – Sunday
8:00 am – 6:00 pm
We open the 365 days of the year