UFC BELTS
By Taller Jacobo y María Ángeles
Art has always been a form of human expression, and sport is no exception. Although at first glance they seem like two completely different fields, art and sport share many similarities. Both require discipline, dedication and passion. They are two manifestations that allow us to release emotions and explore creativity.
Artistic discipline can manifest itself in many different ways, we can see it through painting, sculpture, music or even dance, but also through sport. Athletes are artists in their discipline, they use their body as a tool to create elegant movements, with strength, courage and dedication.
In recent times, the world of mixed martial arts has gained popularity, and with it, the UFC belt has become a symbol of excellence and dominance in the sport. But beyond its value as an award, the UFC belt is a work of art in itself. Each belt is unique, designed with care and attention to detail. The colors and materials used represent the history and values of the sport.
This recognition of the bravery of those who win a fight, becomes a physical representation of the achievements and effort of the athletes who own it, making it a piece of art loaded with meaning, so from the Taller Jacobo y María Ángeles we are proud to share our culture and art through the intervention.
ALEXA GRASSO BELT
Alexa Grasso Montes is a Mexican fighter, ranked #5 in the official UFC rankings. She is the first woman who will defend her flyweight belt for the first time on the night of the celebration of Mexican Independence. We are proud to share this belt endowed with the most ancient attributes of the zapotec culture for this fight that she will have with Valentina Shevchenko.
This craftsmanship in the belt that Grasso and Shevchenko will dispute complements and enhances the integrity of this award, which has a hand-decorated in organic and tribal shapes combined in a vibrant palette of color.
YAIR "EL PANTERA" RODRIGUEZ – REPLICA BELT
Yair Rodriguez has a unique UFC belt in his hands, this 'belt' of El Pantera was customized by Taller Jacobo y Maria Angeles with a renewed look, in which the bright colors and Zapotec symbolism are the main feature.
For this collaboration the workshop worked hand in hand with Cesar Gomez, who leads the team that manages and administers the sports career of Yair Rodriguez, so the belt, besides being a representation of Mexico and its culture, is a unique piece that has no price, but a great personal value.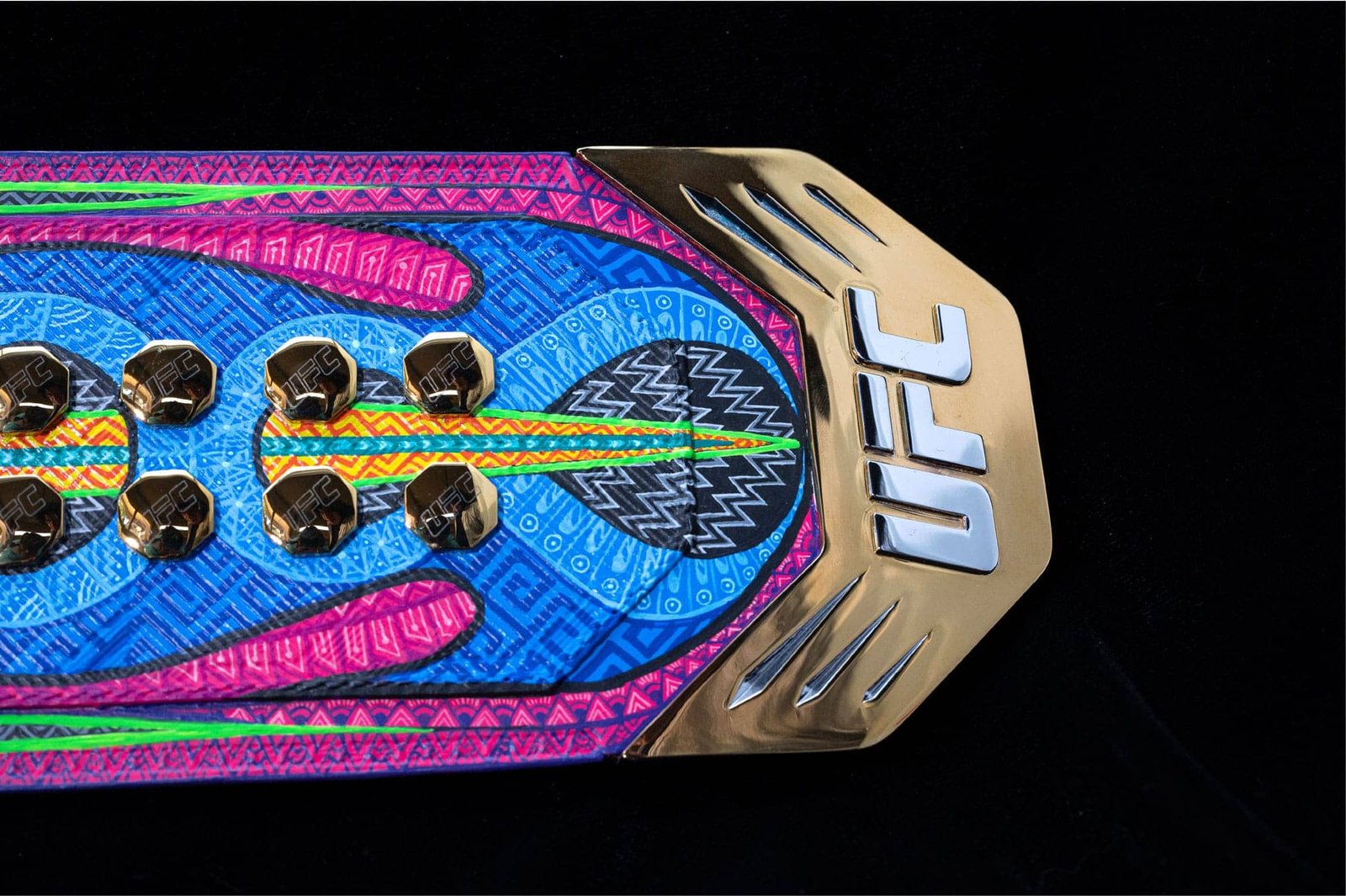 Cjon. del Olvido 9, 71506
San Martín Tilcajete, Oax.
951 524 90 27 ext.4
Monday – Sunday
8:00 am – 6:00 pm
We open the 365 days of the year